American Dream Machine (Paperback)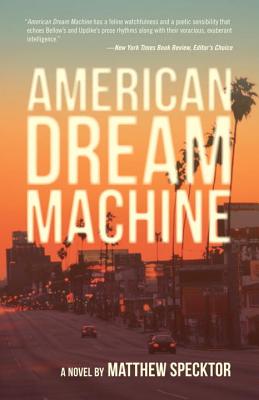 $15.95
Out of Stock; Usually Arrives in 2-5 Days
Staff Reviews
---
"Holy crack book, Batman! This is one addictive read. Specktor moves
between modern day Los Angeles and L.A. in the '60s and '70s to tell the
story of two Hollywood agents and their sons. From page one, I was
absorbed by the shifting industry, its struggles and rewards, the egos
of its players and the way those egos shaped their children. This book
kept me up at night turning pages. Specktor is a terrific writer,
managing to move loosely through his characters' perceptions and motives
with tight, engaging descriptions. He's a pro, his work has appeared in
The Paris Review, The Believer, Tin House. It's no surprise Showtime is turning American Dream Machine into a series. This book is fun. It's well written."
— Julie
Description
---
American Dream Machine is the story of an iconic striver, a classic self-made man in the vein of Jay Gatsby or Augie March. It's the story of a talent agent and his troubled sons, two generations of Hollywood royalty. It's a sweeping narrative about parents and children, the movie business, and the sundry sea changes that have shaped Hollywood, and by extension, American life. Beau Rosenwald--overweight, not particularly handsome, and improbably charismatic--arrives in Los Angeles in 1962 with nothing but an ill-fitting suit and a pair of expensive brogues. By the late 1970s he has helped found the most successful agency in Hollywood. Through the eyes of his son, we watch Beau and his partner go to war, waging a seismic battle that redraws the lines of an entire industry. We watch Beau rise and fall and rise again, in accordance with the cultural transformations that dictate the fickle world of movies. We watch Beau's partner, the enigmatic and cerebral Williams Farquarsen, struggle to contain himself, to control his impulses and consolidate his power. And we watch two generations of men fumble and thrive across the LA landscape, learning for themselves the shadows and costs exacted by success and failure. Mammalian, funny, and filled with characters both vital and profound, American Dream Machine is a piercing interrogation of the role--nourishing, as well as destructive--that illusion plays in all our lives.
About the Author
---
Matthew Specktor is the author of "That Summertime Sound," as well as a nonfiction book of film criticism. His writing has appeared or is forthcoming in "The Paris Review," "The Believer," "Tin House," "Black Clock," and other publications. He is a founding editor of the "Los Angeles Review of Books" and lives in Los Angeles.