Supernatural Strategies for Making a Rock 'n' Roll Group (Paperback)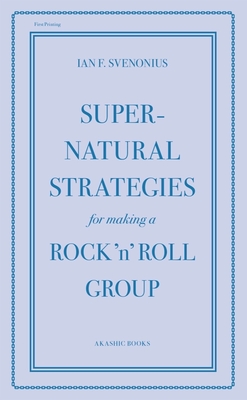 $14.95
Out of Stock; Usually Arrives in 2-5 Days
Description
---
"Proscriptive how-to advice ranges over a wide number of subjects (e.g., sex, band photos, etc.) and can be seen both as skewering the cultural idolatry associated with rock and as genuine counsel. Verdict: Svenonius's sociopolitical analysis of rock and roll is intellectually interesting, as when he posits that the genre was 'brought about by the industrial revolution, the harnessing of electricity, and the miscegenation of various poor, exploited, and indentured cultures in the USA.'"
--Library Journal
"So much of the allure here is in watching Svenonius skirt absurdity. He's always seemed delighted by the fact that the profound and the preposterous can sound awfully alike, a realization that puts him in line with an avant-garde tradition that stretches back before rock 'n' roll crystallized this fact...Svenonius has the spirit of a long-gone punk past, but his book has more to tell us about rock's here-and-now than about its hereafter. Neither bourgeois nor prestigious, Supernatural Strategies may be the rare book by a rock musician to retain any power or threat."
--Los Angeles Review of Books
"Like its author, Supernatural Strategies is part tongue-in-cheek, part deadly serious--a satire of rock's consumerist origins but also a thoughtful treatise on what it means to devote yourself to a collective...Drawing from the wisdom of rock 'n' roll's most famous ghosts, Svenonius' advice ranges from hilarious to cryptic to surprisingly useful."
--Pitchfork
"Svenonius has walked the walk...Even today--as the frontman of Chain & The Gang and the host of the online talk show Soft Focus--he remains cool, cryptic, and impeccably dressed, a mod magician with a trick always lurking up his tailored sleeve."
--The Onion AV Club
"If 'write what you know' is one of authorship's prime dictates, then Ian F. Svenonius seems uniquely qualified...Svenonius' contrarian, anti-establishment rhetoric is his greatest gift...Strategies plays to these same strengths by allowing him to run roughshod riot over hallowed ground he's already trod--and sometimes paved--more than a few times."
--Baltimore City Paper
Ian F. Svenonius's experience as an iconic underground rock musician--playing in such highly influential and revolutionary outfits as The Make-Up and The Nation of Ulysses--gives him special insight on techniques for not only starting but also surviving a rock 'n' roll group. Therefore, he's written an instructional guide, which doubles as a warning device, a philosophical text, an exercise in terror, an aerobics manual, and a coloring book.
This volume features essays (and black-and-white illustrations) on everything the would-be star should know to get started, such as Sex, Drugs, Sound, Group Photo, The Van, and Manufacturing Nostalgia. Supernatural Strategies will serve as an indispensable guide for a new generation just aching to boogie.
About the Author
---
Ian F. Svenonius: Ian F. Svenonius is the author of the underground best seller The Psychic Soviet (Drag City Press 2007). He was also the host of VBS.tv's Soft Focus, a different breed of chat show, where he spoke to people such as Mark E Smith, Genesis P Orridge, Chan Marshall, and Ian Mackaye. As a musician he has created 18 albums and countless singles in various rock 'n' roll combos (Chain & the Gang, Weird War, Make Up, Nation of Ulysses, et al).