Books On Our Site May Not Be Available In-Store
Is This Book In Stock? Be Savvy! Check availability details beneath the blue "Add to Cart" button.
The Walls of Delhi: Three Novellas (Paperback)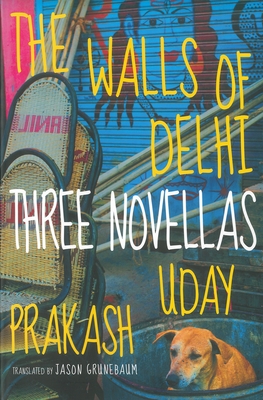 $14.95
It's complicated, and may be unavailable. Place an order and we will contact you with the expected arrival date.
Description
---
A street sweeper discovers a cache of black market money and escapes to see the Taj Mahal with his underage mistress; an Untouchable races to reclaim his life that's been stolen by an upper-caste identity thief; a slum baby's head gets bigger and bigger as he gets smarter and smarter, while his family tries to find a cure. One of India's most original and audacious writers, Uday Prakash, weaves three tales of living and surviving in today's globalized India. In his stories, Prakash portrays realities about caste and class with an authenticity absent in most English-language fiction about South Asia. Sharply political but free of heavy handedness.
About the Author
---
One of contemporary Hindi literature's most important voices, UDAY PRAKASH was born in 1952, in the remote village of Sitapur in Madhya Pradesh. A Communist Party member in his youth, he fled the region for Delhi during the India's 1975-77 State of Emergency—though not before attaining with distinction his Master's in Hindi Literature at Saugar University. Prakash has worked for a range of newspapers and television sources in Delhi, all the while publishing poetry and fiction to international acclaim. He is the recipient of the prestigious Sahitya Akademi award in India, and his 2013 novel The Walls of Delhi was a finalist for the DSC Prize for South Asian Literature. Also a filmmaker and a playwright, Prakash divides his time between New Delhi and Sitapur in Madhya Pradesh.

Translator JASON GRUNEBAUM's short stories and translations have appeared in many journals. His English translation from of Uday Prakash's Hindi novel The Girl With The Golden Parasol was awarded a PEN Translation Fund grant and published by Penguin India. He is senior lecturer in Hindi at the University of Chicago, where he also teaches creative writing.
Praise For…
---
"The narrative is hypnotic, not only in its ability to reveal socio-political situations and extreme poverty, but in the way it interweaves the stories with legends and then offers candid statements referencing world events that make the truth of the message of poverty and corruption very real."—Maya Fleischman, Foreword Reviews

"You finish each piece and it's like a slap in the face of realization at what's just occurred, and you can't even feel the full sting until the next day or the next week when your mind has had some time to fully digest everything that's happened. These stories have sticking power."—Corduroy Books

"The stories in this collection should be read not only because they are coming from an extremely important voice in Hindi literature, but also because they are not just stories but a profound mapping of our times' civilisational crisIs resulting from the blend of an awfully oppressive social order and brutal imperialism."—The New Indian Express

"Three...stingingly comic tales [with an] appealing mix of social realism and pungent sarcasm. Uday Prakash uses a kind of wry documentary style, combining incisive humour with gentle pathos, interspersed with occasional poetic passages, creating a new kind of narrative style that has been well caught by the translator." —Frontline (India)

"Uday Prakash writes of contemporary India with bleak and unblinking scrutiny irradiated by empathy and humanity. His mastery of metaphor and allegory and the power of his style invoke a timeless culture on the cusp of change." —Namita Gokhale, founder-director of The Jaipur Literature Festival and author of The Book of Shiva

"I am not particularly fond of literature that thrives only on cons of any society. Yet, although the individual stories build up on the painful and neglected aspects of Indian society, the collection as a whole stands out uniquely having a distinct and original voice. The characters are complete and very much human so that their tales keep lingering in the reader's mind even after finishing the book. In all three stories, the author has succeeded in exploring the grave subjects in an intriguing style of narration and with complete command of a language that disturbs the reader."—The Book Outline

"These are compelling stories, and with his often indirect approach—the narrator squeezing his perspective and person into the story, even if it seems to have little to do directly with it—Uday Prakash adds yet another interesting layer to the writing. The injustices described can be frustrating for the powerless reader, but the pieces certainly do impress."—The Complete Review

"The referential landscape of Prakash's stories is expansive, ranging from canonical Hindi literary figures such as Premchand and Mukhtibodh as far afield as Osip Mandelstam and Allen Ginsberg. Yet for all their scope, their intended audience is evidently local. The experience of reading them in English serves only to accentuate that the readership to whom they are addressed is neither Anglophone nor faraway, but rather one for whom Delhi is, at least emotionally, "not far at all." This distance is bridged to an extent by Jason Grunebaum's thoughtful translation, which provides clarity and context without resorting to commentary. Yet the displacement of translation cannot be erased—nor should it be. It augments the strangeness and power of Prakash's narratives, which offer a window into an internal dialogue whose raw intensity is rarely encountered in English-language literature from the subcontinent."—The Quarterly Conversation


 


From the Hardcover edition.